Questions from Pre-Homeowners Getting In Financial Shape
I haven't started house-hunting, should I even start looking at loans? Yes. Apply for approval now so that we can advise you on ways to improve your credit score, address any potential "glitches" on your application, offer you a wider range of loans, and give you more bargaining power with sellers.
I've got some credit card debt. Should I pay it all off to get a better rate? Don't use all your savings to pay off all your credit card debt. Sometimes you'll get a better loan and lower monthly payment with more money down. Talk to us to see what strategy is best for you.
My parents are helping me with the down payment. Should they put the money in my account early so that it looks like mine? Don't hide gifts. In fact, they're pretty common. As long as banks know where the money is coming from, you're fine.
I've got money in a couple accounts I'll use for a down payment. Is that a problem? If you're going to buy a house in six months to a year, put all your down payment funds into one interest bearing savings account and leave it there. Moving money from account to account at the last minute triggers a ton of extra paperwork for you to complete during the closing process.
Not everything in the mortgage industry is intuitive. Reading a real estate book can teach you some about the industry, but the details of your situation may be more nuanced than you appreciate. Give us a call and be assured Brian's 25 years in the industry will offer you the expertise you need.
TIPS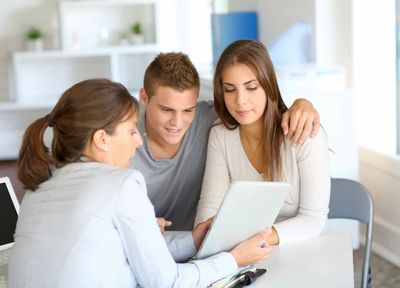 Counterintuitive: 5 Things NOT To Do When Buying a Home
Don't start buying new kitchen appliances and furniture just before closing, without talking to us first. Sure, you want to time delivery with your move-in day, but if your debt ratios are close, these big ticket items can "unqualify" you for your mortgage.
Don't hide bad news. If you owe back taxes or have a recent bankruptcy, let us know early on so we can help you. Don't waste hundreds of dollars on a home inspection and appraisal only to have a last minute financial surprise sink the deal.
Don't pay off collection accounts or judgments before talking to us. Doing so will update your "recent activity" on your credit report and actually lower your score! We'll help you time that payment so it doesn't affect the transaction.
Don't quit your job or give notice before your loan is funded. Lenders want to know you have a steady job that will cover your loan payments. Even switching to a higher paying job during closing can adversely affect your loan.
Don't wait for the market to fall 25% before buying. People who have waited years for the "just right time" have missed out on tens of thousands of dollars of equity gain as properties appreciate. The right time to buy a house is when you need one. Just buy within reason and you'll be fine in the long run.